New
Yawk
, New
Yawk
!
It's on! We've started planning and purchasing for our autumn vacation. This year we really haven't travelled anywhere, mostly because it's been one hell of a year for school work, work work, parent parties, sick cats, and other expenses. [Mom, the parent party was GREAT - don't read this the wrong way!] Well, we're rewarding ourselves for getting through my comp exams and tough work for Rocco with a two week adventure.
First, we'll bus to Seattle and hang out with Rocco's cousin for a night. Then we'll fly to Charleston, South Carolina, to attend an Irish-Brazilian wedding in the Sow-
th
. Can you dream up a wedding that sounds like more fun? The groom is an Irish friend of Rocco's so we'll see some great friends who are coming over for the wedding as well. I pledge to drink a mint julep on a veranda at least once! From Charleston we fly to NYC.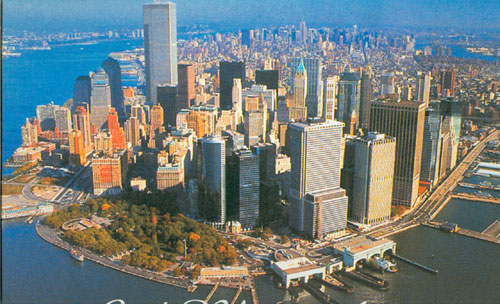 Yep, New York City! I've never been and have always, always wanted to experience it. It looks like we'll spend maybe five nights in the city and I do have some idea of what to do and see but I need tips too! The Guggenheim, the Met, Broadway,
Schlotzky's
Deli, maybe the statue of liberty, what else???
From New York we'll go to Toronto to stay with some of Rocco's TO friends who he hasn't seen in far too long. I haven't been back to TO since he moved West so I'm really looking forward to visiting the city again and the few friends I know who haven't moved away. Also, the last weekend of our two week trip I'll be in a conference in Toronto, delivering that paper on gooey sustainability (the gross, wobbly bits of environmental behaviour that we have to come to grips with) that required the
book on fecal matter through the ages
. This conference is exactly the kind of scholarship I love and want to pursue, and it promises to be fantastic. Plus they gave me a $200 bursary for travel expenses - a drop in the bucket of the larger trip but every little bit helps! After the conference, and after numerous meals and other fun times with Rocco's friends, we'll finally head back to Vancouver.
YAY
! I would leave today except that there's much to do before we go and the sun is finally shining in Vancouver so I'll soak it up while I can. Please, please send me ideas and tips for New York. I don't want to come home and have people ask me, "You mean you didn't see ______? That's like skipping New York altogether!" Sex and the City references, music, dance, theatre, food, it's all acceptable and desired so,
c'mon
, cough it up!
Oh, an update! Rocco had the brilliant idea that Savannah, Georgia, is very accessible from Charleston, SC, so we might spend a couple nights there before going to New York City. If you're going South, might as well be the true South!